Appointment Scheduling
The Driver Schedule program is a great online appointment scheduling resource for appointments, trips, reservations, routes, deliveries and shifts and is a complete HR suite solution for your company.
With our new integrated appointment scheduling software (an optional add-on module), you can also set up one-time or recurring appointments, delivery routes, service stops and more!
Driver Schedule's integrated appointment scheduling software allows you to do everything from setting up one-time or recurring appointments or routes to letting drivers bid on available jobs, all in an easy-to-use online scheduling app.
For improved ease of use, the appointment scheduling software allows you to change the "appointment" label to a different term, such as trip, reservation, route, delivery or shift, that more closely matches your operational requirements. Your chosen terminology will then be used automatically throughout the program.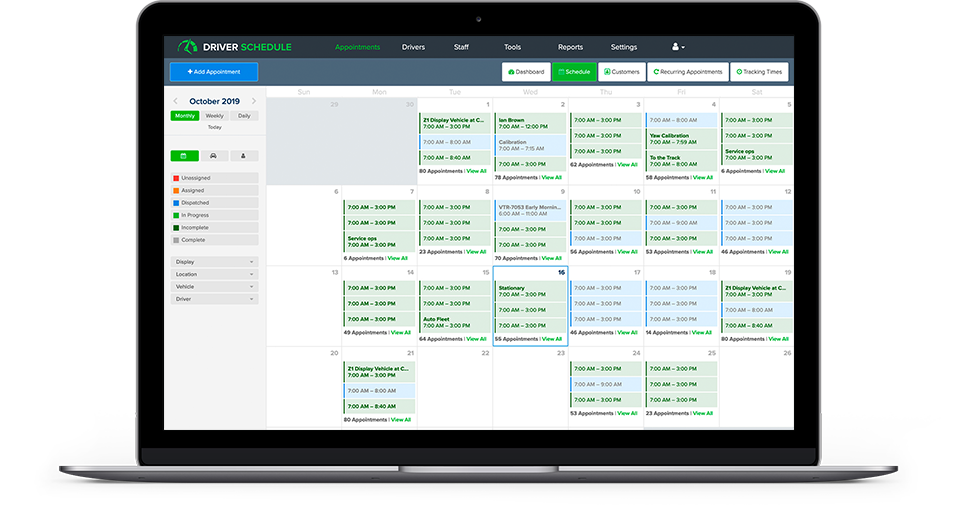 The appointment module is perfect for:
Car dealerships
Armor car companies
Catering companies
Church group software
Oil & gas delivery companies
Tour operators
Fleet management
Personal appointment transportation
Hotel shuttle scheduling
Cleaning and janitorial services
Equipment rental companies
General dispatching
Carpet cleaning companies
Payroll delivery
Moving companies
Contract shuttle companies
Apparel and uniform delivery
Dry cleaning delivery
Medical supply delivery
Property management
Freight and logistics
Transportation management
Vending machine fulfillment
Installation companies
Automotive and bus delivery companies
Appointment scheduling
Appliance delivery
Appointment Bidding
The appointment bidding feature lets you automatically send out notifications to your driver staff or independent contractors to let them know what jobs are available, reducing your scheduling time by over 60%.
You can set up priority bidding for groups or individuals to support any internal hierarchy including experience, longevity with the company, or even pay rate, and easily monitor the bidding progress to identify any appointments that still need to be covered.
Driver Schedule is the only software made by transportation and logistics people for the transportation, delivery and logistics industries.
Let us show you in just 15 minutes how our scheduling software can streamline your operations and save you money.
Start with a Free Demo
Explore the other features Driver Schedule has to offer: