GPS Tracking
Looking for an employee GPS tracking app?
Our GPS Tracking feature (an optional add-on) is great for increasing the efficiency of your driver staff and fleet. Forget about cumbersome 3rd party GPS devices that have to be installed in your vehicles, our employee GPS Tracking is part of our Driver Schedule app, and is only active when your drivers are working for you.
See in real-time the progress of an individual driver without having to call them, or you can view every driver's position on our Driver Location Map.
See the current location of all your drivers in real-time to optimize your fleet
View the driver's path and route in real-time for each individual appointment
See the last location of your asset for better quality control
Dispatch more efficiently by filtering custom vehicle characteristics on your fleet map
New Geofencing feature improves appointment-tracking by enabling drivers to start an appointment timer only when they are within a designated distance of the appointment location.
If you manage drivers that are on the road or need a GPS tracker for truck drivers, our GPS Tracking feature is a must. Increase your businesses efficiency and save money by knowing exactly where everyone is and what their current appointment status is.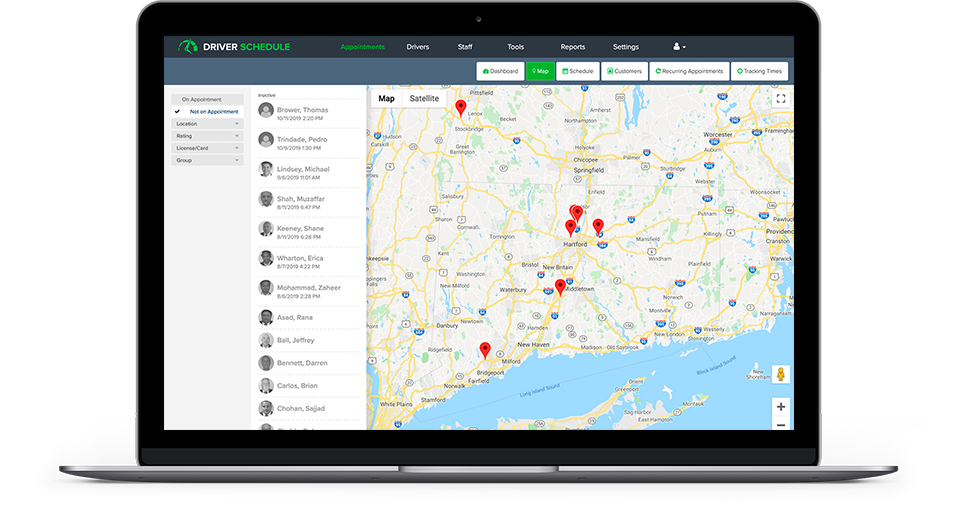 Driver Schedule is the only software made by transportation and logistics people for the transportation, delivery and logistics industries.
Let us show you in just 15 minutes how our scheduling software can streamline your operations and save you money.
Start with a Free Demo
Explore the other features Driver Schedule has to offer: