Fleet Inspections, Maintenance & Reporting
When you need to manage a complete fleet of vehicles, it can be a challenge to record and organize the information for each vehicle. With Driver Schedule, you can accurately track each car's current status, scheduled maintenance, reported issues, repair history, and more.
Import all of your vehicles to the Driver Schedule tool at once, and then get a snapshot view of the entire fleet on the Vehicle Dashboard. Here, you can see the status of each vehicle—which are in need of maintenance or repair, which have an upcoming service appointment, and which are currently unavailable. You'll also find an overview of open vehicle issues, damage reports, failed inspections, and other high-priority items.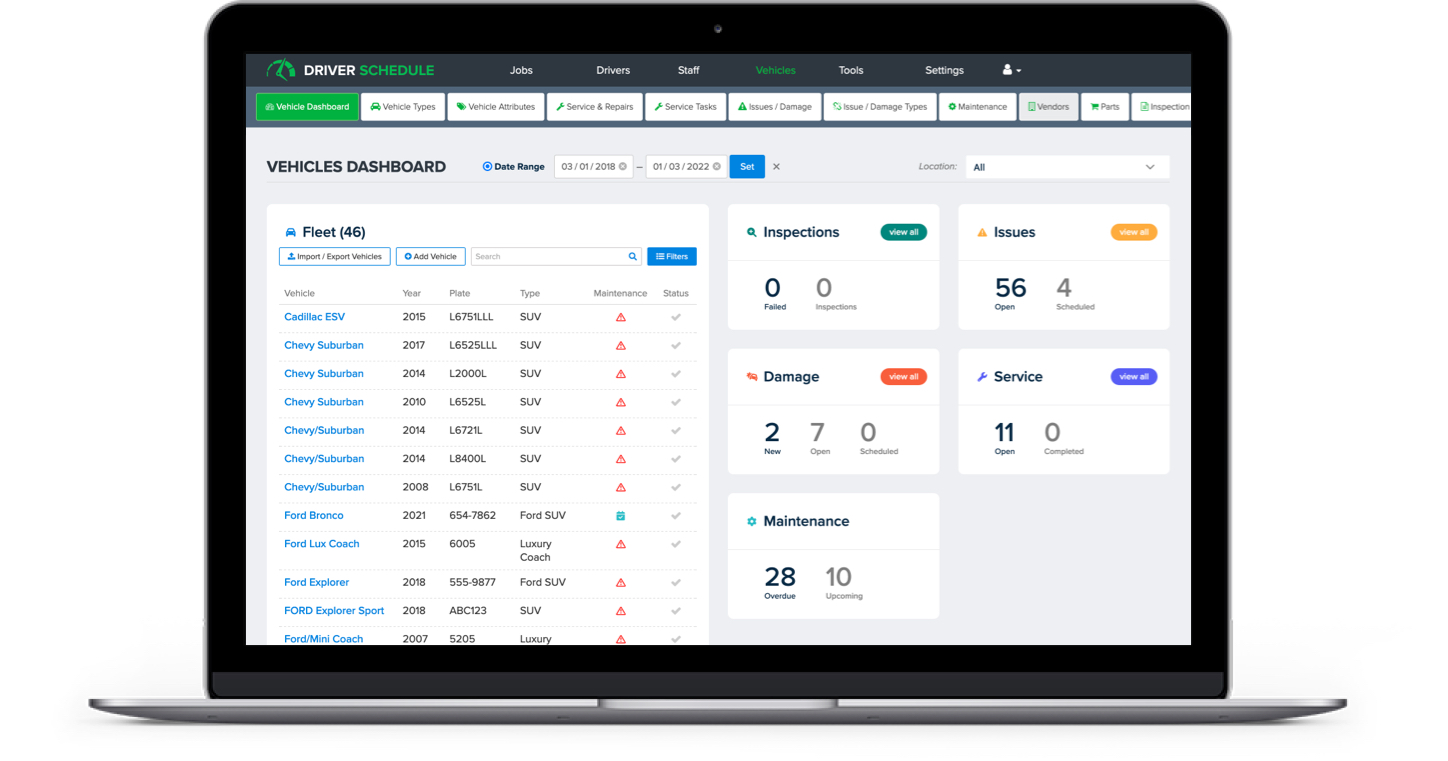 Vehicle Information Management
Say goodbye to piles of paperwork and unwieldy spreadsheets. Driver Schedule gives you a place to store all information for each vehicle in your fleet—from basic attributes like the make, model, VIN, and plate number, to specialized data points that are specific to your business, like location and attributes.
Track the odometer history and see gas mileage.
Upload documents, such as the vehicle registration, insurance cards, and service receipts.
See the service & repair history, any current issues, and upcoming maintenance.
Add your own notes.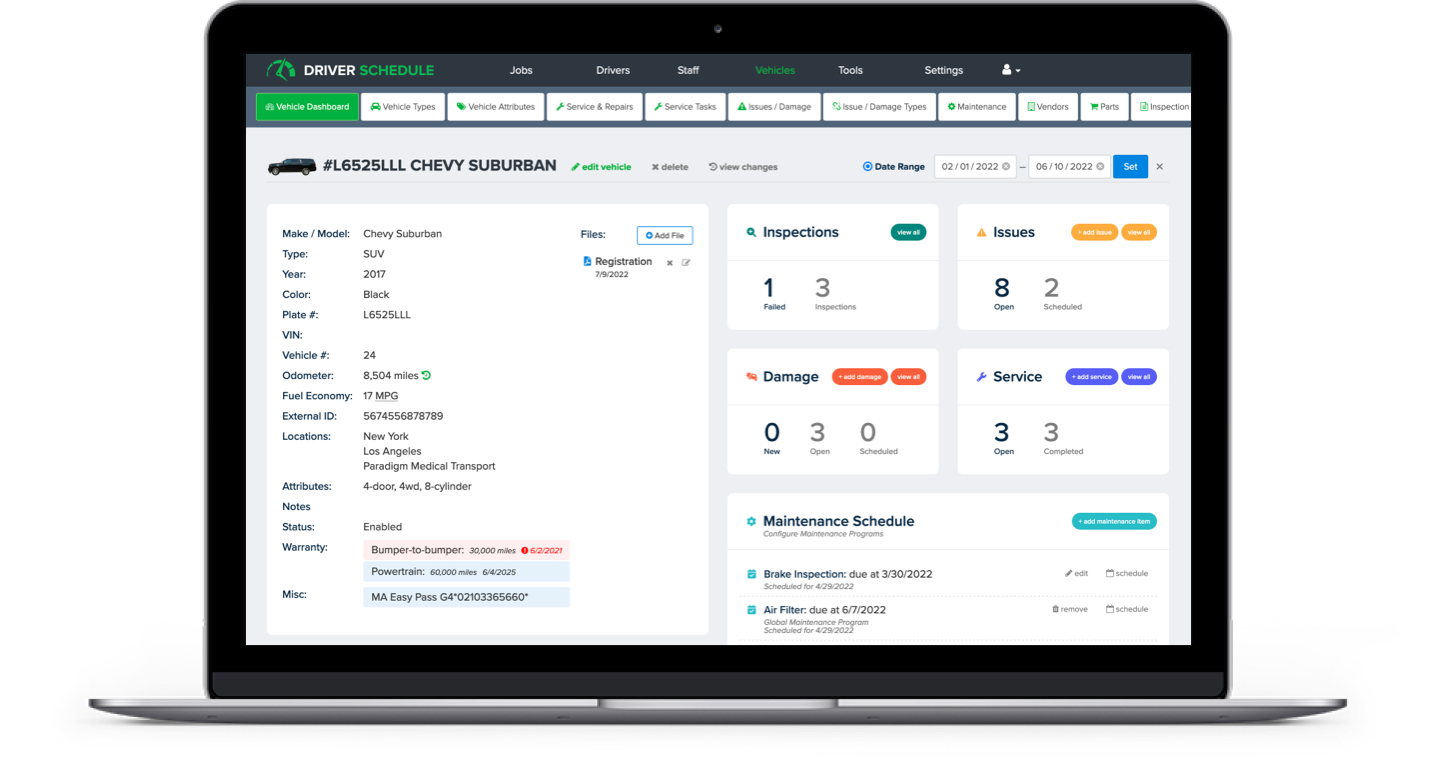 Vehicle Inspection Reports
Keep your fleet running safely, your team working productively, and your records up-to-date by replacing paper Driver Vehicle Inspection Reports (DVIR) with our mobile app's Customizable Inspection Reports. You can define the items that drivers must check or test before each trip, and allow them to add comments and upload photos of damage or other problem areas.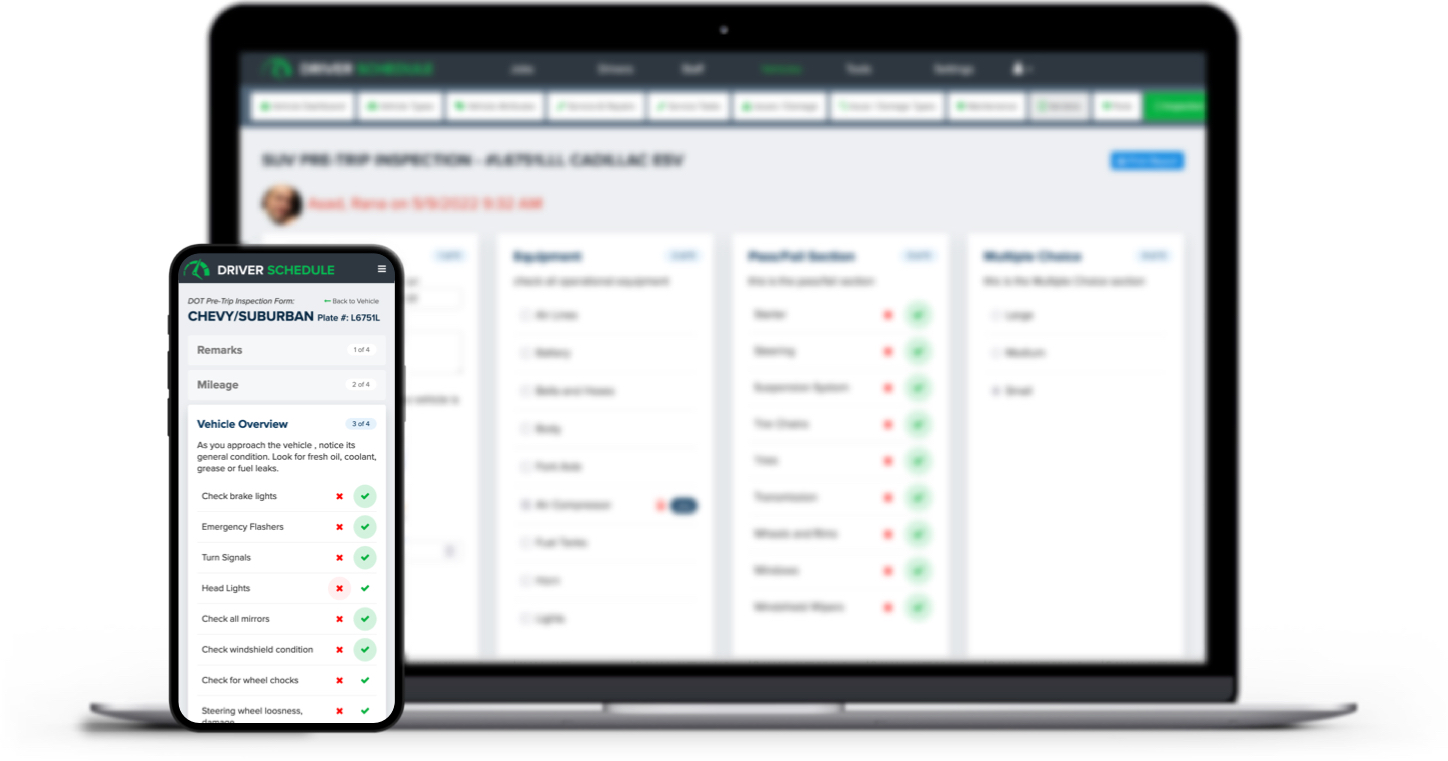 Vehicle Issues & Damage Reports
Forget pink slips and verbal complaints about vehicle issues. Now your staff can easily tag and report issues with a limo, car, van, or truck from anywhere. Reporting is quick and efficient, while allowing drivers to add comments and upload photos for a complete look at the issue. The vehicle's date and mileage are also captured, so you can monitor the timeframe from report to repair.
Alerts are instantly emailed to your appointed contact person.
Issues appear on the simple-to-use fleet maintenance dashboard.
Management can add comments to "thank" the driver who reported an issue, or to ask further questions.
All action taken for reported issues can be recorded within the software. Add a scheduled service appointment with all vendor information, mark the vehicle as unavailable during service, and log the repairs performed and the associated costs.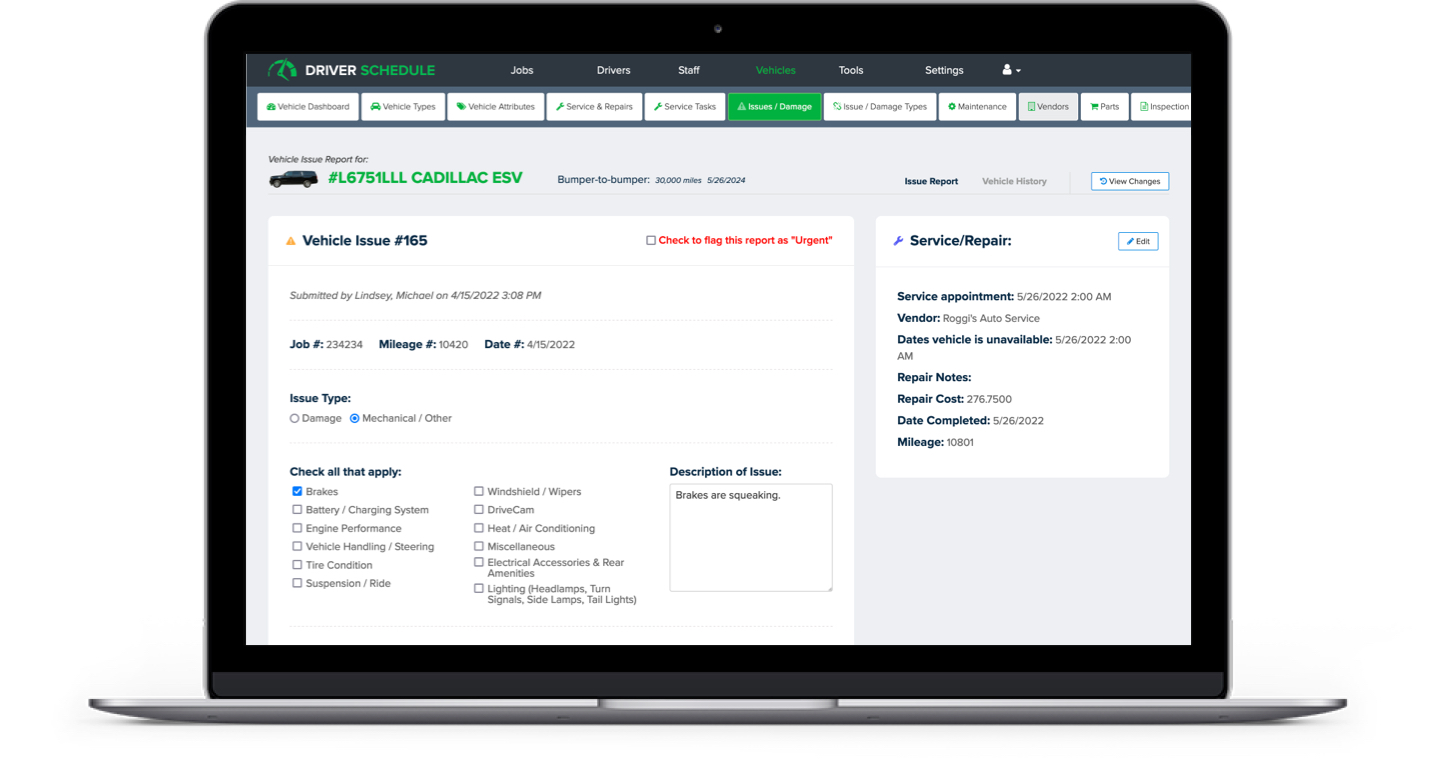 Service Tracking
Our fleet reporting software dashboard lets your team track fleet maintenance services, including managing repairs and tracking per-vehicle expenses. The maintenance tracker will also automatically remind you when a registration is expiring or an inspection is due.
Set a global maintenance schedule for your entire fleet or for individual vehicles.
Set the frequency for the reminders you receive.
Create a database of your vendors and associate each service appointment with one.
Mark a vehicle as unavailable for a block of hours or days when a service appointment is scheduled.
Add invoice numbers, cost breakdowns to each service item.
Driver Schedule's fleet maintenance software makes it easy to maintain your entire fleet of vehicles and ensure that all required tasks get accomplished. We help you minimize vehicle downtime and maximize the efficiency of your fleet.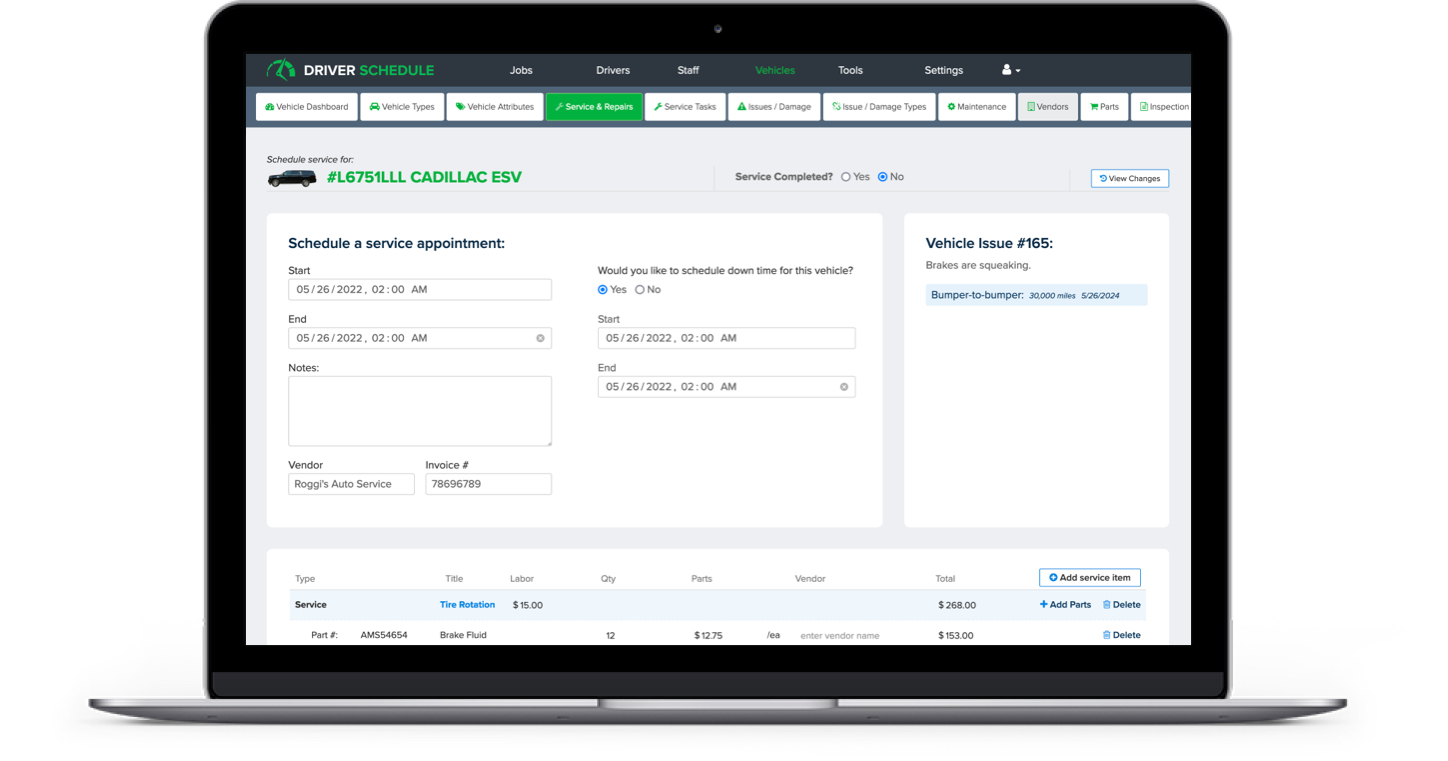 Driver Schedule is the only software made by transportation and logistics people for the transportation, delivery and logistics industries.
Let us show you in just 15 minutes how our scheduling software can streamline your operations and save you money.
Start with a Free Demo
Explore the other features Driver Schedule has to offer: