Employee & Driver Training Management
The key to any successful business is the knowledge of your staff. Knowing the answers to client questions or how to handle a particular situation without having to ask someone else is not only efficient – but it's the sign of a good business.
The Driver Schedule program includes over 1,000+ questions that relate to driver etiquette and driving knowledge – the type of questions you would see on a Motor Vehicle Test prior to getting your drivers' license. You can modify our questions or you can input your own, for a more customized educational program. You decide on the amount of questions, which questions, the passing grade, and how often the tests are required. Our driver training management software supports a variety of options including; individual tests, department targeted tests, license type targeted tests, and system lock-outs for individuals who haven't completed a test by a deadline, just to name a few.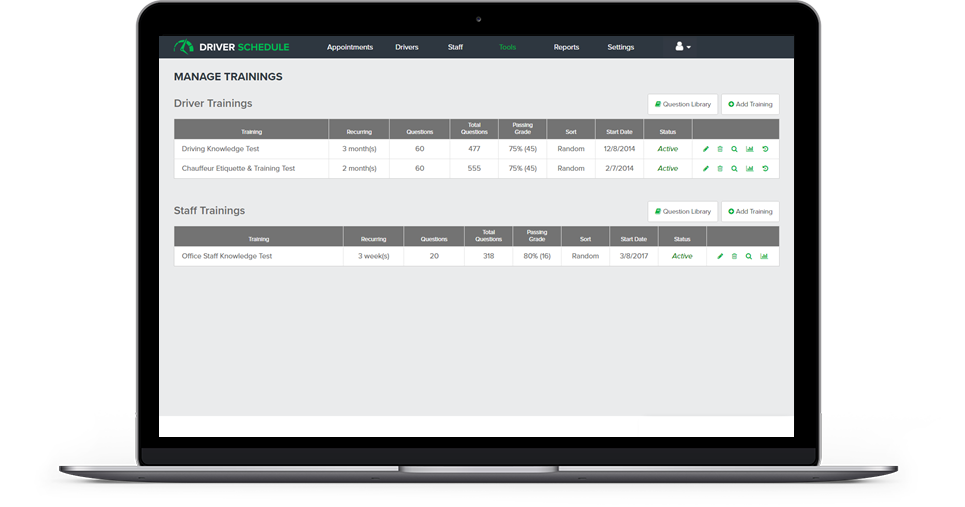 Driver Schedule is the only software made by transportation and logistics people for the transportation, delivery and logistics industries.
Let us show you in just 15 minutes how our scheduling software can streamline your operations and save you money.
Start with a Free Demo
Explore the other features Driver Schedule has to offer: