Driver Availability
The Driver Schedule program is an employee availability system designed to solve the problem of managing and organizing your drivers' availability. Driver availability software allows you to easily track driver availability, set up recurring schedules, and create alerts when a driver's availability changes.
Many businesses and industries who have driving positions struggle with tracking employee availability and the process of knowing who is available, when they are available, and how to easily keep this information up-to-date. Driver availability software can help by automating the process of tracking driver availability and making it easy to see who is available when.
Most companies spend hours each month keeping their spreadsheet, calendar or other document accurate with the availability of their driver employees — only to experience continuous failures in that system caused by having the wrong information in place. Driver availability software can help by providing a centralized location for storing driver availability information and making it easy to update.
The Driver Schedule program takes the responsibility of keeping the driver employees' availability off of the company, and places it where it belongs — on the driver employee.
If your driver model allows the employee to dictate when they are available, the program supports the employee logging in and specifying their availability — only with your rules (e.g., minimum number of hours, specific days mandatory, etc.).
If your model specifies which days and hours the employee must be available, the program supports creating recurring auto-schedules that can easily be updated when someone needs time-off.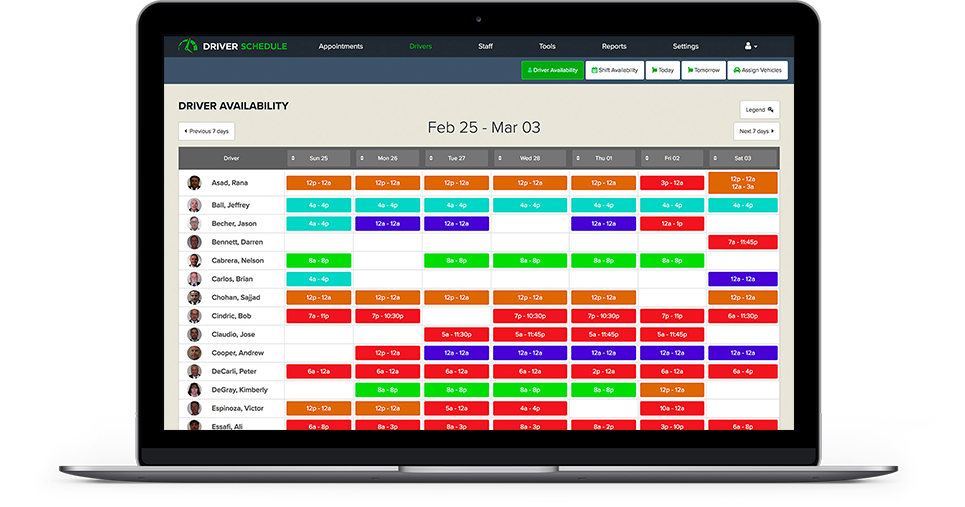 Driver Schedule is the only software made by transportation and logistics people for the transportation, delivery and logistics industries.
Let us show you in just 15 minutes how our scheduling software can streamline your operations and save you money.
Start with a Free Demo
Explore the other features Driver Schedule has to offer: