Fleet Maintenance & Reporting
When you need to manage a complete fleet of vehicles, including scheduled maintenance, repairs and complaints about vehicle issues, it can be challenging to accurately record and track all issues and keep everything organized.
Driver Schedule's fleet maintenance software makes it easy to organize your entire fleet of vehicles and make sure all required tasks are accomplished quickly and accurately to minimize vehicle downtime and maximize the efficiency of your fleet.
Forget pink slips and verbal complaints about vehicle issues. Now your staff can easily tag and report issues with a limo, car, van or truck from anywhere with a few simple clicks. Alerts are instantly emailed to whomever you wish and then appear on a simple-to-use fleet maintenance dashboard.
Our fleet reporting software dashboard lets your fleet maintenance crew track fleet maintenance services, including managing repairs, tracking per-vehicle expenses, and even "thanking" the people who report issues. The maintenance tracker will also automatically remind you when a registration is expiring or an inspection is due.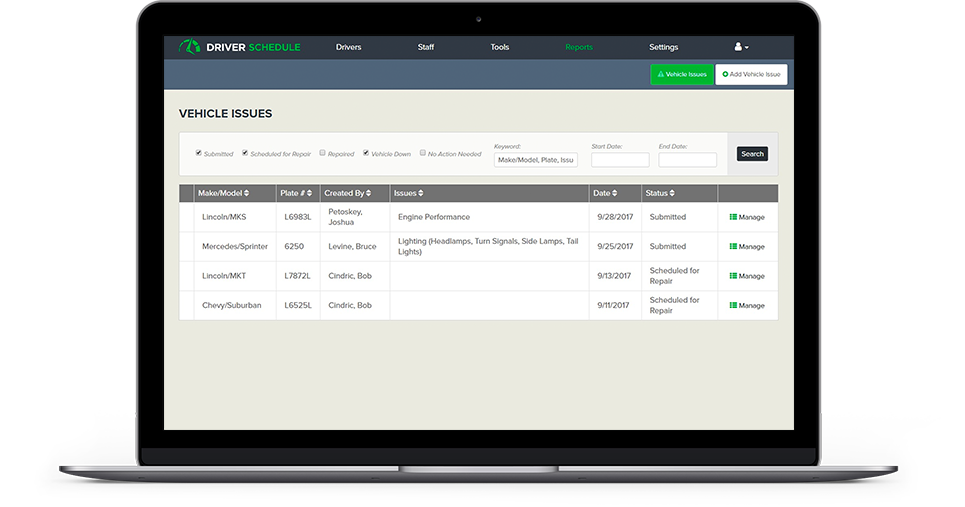 Driver schedule is the only software made by transportation and logistics people for the transportation, delivery and logistics industries.
Let us show you in just 15 minutes how our scheduling software can streamline your operations and save you money.
Start with a Free Demo
Explore the other features Driver Schedule has to offer: