Employee Time & Payroll Tracking
How are you tracking your hourly employees' time? Is it accurate?
Forget mechanical time cards that aren't clear with over-punches and require manual rounding. Biometric systems can be finicky and add another layer to your back office. Driver Schedule's employee scheduling app, which tracks employee time and attendance, includes employee time clock software with full security. Employees must be logged into their computers and ready to work in order to punch in, so there's no more wasted time between punching in and starting their workday.
Using Driver Schedule's employee time clock app:
Receive email alerts when employees are late and when they start going into overtime.
Drivers can use the program to punch in and out for a particular vehicle.
Your payroll is automatically calculated according to your state's employment laws, even compensating for overtime.
GPS Location Capture feature tracks employees and shows a record of where the employee clocked in and out.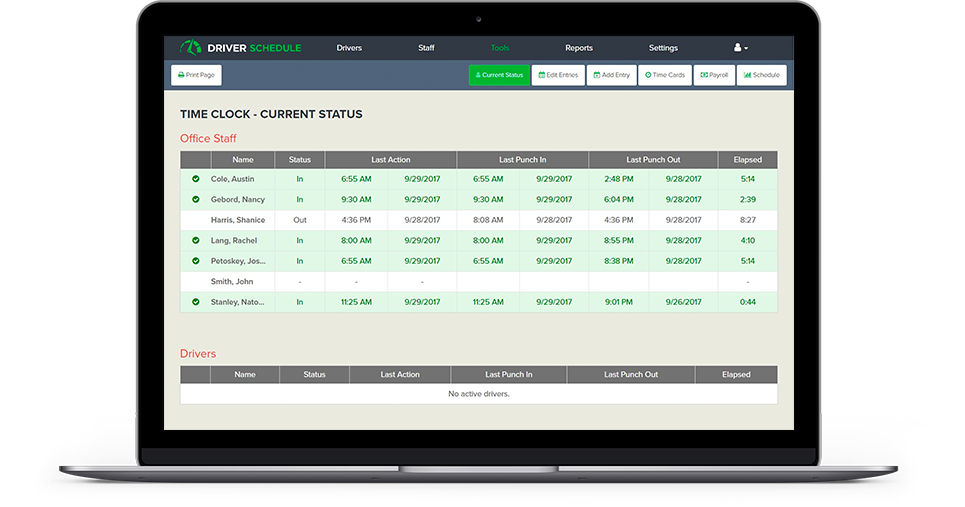 Payroll Integration

Quickly and easily review your employee payroll information and then simply import your timesheets into your favorite payroll platform. Our Employee Time Tracking features everything you need to accurately monitor and track your employee's work time, break time and time-off. Regardless of whether you process payroll in-house or through a professional agency, Driver Schedule makes it easy to transfer all your employee payroll information into the processor of your choice
Intuit and QuickBooks are trademarks and service marks of Intuit Inc., registered in the United States and other countries.
Driver Schedule is the only software made by transportation and logistics people for the transportation, delivery and logistics industries.
Let us show you in just 15 minutes how our scheduling software can streamline your operations and save you money.
Start with a Free Demo
Explore the other features Driver Schedule has to offer: